News 2010
---
20th Anniversary Lunch 11 July
| | | |
| --- | --- | --- |
| | The group celebrated its 20th birthday at the President's Lunch on a lovely sunny day. | |
More than 100 members and guests attended the celebratory lunch in Droitwich and, this year, the weather held and it was sunny and warm. Two large marquees had been eretced for the main event; one as the dining area and the other as a food servery which also housed the raffle. Children were not forgotten as a third marquee had been put up for them together with a bouncy castle.
VIP guests included Stephen Thrush and Helen Bright Thomas, breast surgeons at Worcester Royal Hospital and his two breast care nurses Linda Cook and Helen Thomas; also Carole Crowe, of the Worcester Breast Unit Campaign. Stephen congratulated the group on achieving 20 years of support; this being something of a record among support groups.
The cake was cut jointly by the Chairman, Cherry Robinson (on the left) and President, Linda Noble. Linda was presented with the sugar flowers from the top of the cake and both looked as though they were about to break into song.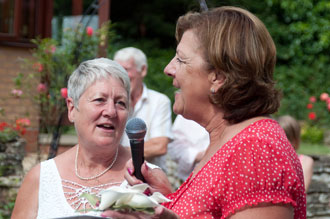 Linda and Cherry were both presented with flowers sent by Richard Heal who's wife Jacqui had founded the group in 1990.
Lunch time entertainment was provided by Steve Maitland with songs from his Buble Tribute Show.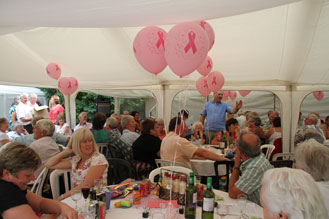 There were many happy faces to be seen including a parrot!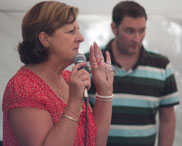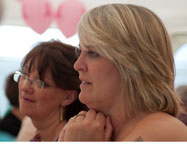 Our grateful thanks to all those who worked so hard to make the day a success. Pictures by Phil Hibberd of All Yours Photography and John Lacy.
Text of report in Worcester News for 30 July by James Connell: An anniversary lunch raised more than £1,000 towards a room within a dedicated breast care unit.
The 20th anniversary party of the Worcester Breast Care Support Group lunch was attended by 116 people.
The event, held in Corbett Avenue, Droitwich, on Sunday, July 11, raised £1,200 towards a room named after the woman who founded the support group – nurse Jacqui Heal – who died aged 70 of a brain tumour in 2007.
The room will provide a quite space in which information can be given to patients, where their privacy and dignity is better preserved than in the existing facilities at Worcestershire Royal Hospital in Worcester.
The room itself would be based at 220 Newtown Road, forming part of dedicated £2.5 million unit, for which the Worcestershire Breast Unit Campaign is raising funds and which your Worcester News adopted as its official charity before the launch of the appeal in October.
Support group chairman Cherry Robinson said the event was a huge success with a garden marquee, a two-course meal, a creche with bouncy castle for children, a raffle, a tombola, cookery school and tea and coffee.
There was also singing by Steve Maitland, of Toulouse Drive in Norton, Worcester, who performed Michael Buble classics which he had sung at a recent fund-raising gala concert.
Mrs Robinson, aged 65, of Osier Close, off Bath Road, Worcester, was first diagnosed with breast cancer in 1997 and had a mastectomy but had a second blow when she was diagnosed again in September 2008.
She said: "The generosity of people was absolutely fabulous. We couldn't believe just how many people dipped in their pockets."
The group has already raised about £18,000 towards the new unit, which has helped to pay for a laptop, a digital camera, a fat transfer machine to help reshape breasts, a tattoo gun to create nipples on the breast after surgery and books on breast reconstruction.
Mrs Robinson and support group president Lynda Noble were also surprised to receive flowers from Richard Heal, the widower of Jacqui, who now lives in New Zealand but still continues to show active support for the campaign, describing his wife as "an extremely caring person who was born to be a nurse".
Breast consultant Steven Thrush who recently took himself – and a campaign pink bag for life – to the summit of the tallest mountains in England, Scotland and Wales as part of the Three Peaks Challenge was also present, along with Rachel Bright-Thomas, also a breast consultant.
---
Read News from Different Years
2007 | 2008 | 2009 | 2010 | 2012 | 2013 | 2014 | 2015 | 2016
---