News 2009
---
Jacqui Heal Remembered
From the Worcester News of 13 November 2009.
The widower of a popular nurse has spoken of how honoured she would have been to have a room named after her at a new breast unit.
Richard Heal contacted the Worcester News from his home in New Zealand to urge people to support the Worcestershire Breast Unit Campaign to build a new £2.5 million unit at Worcestershire Royal Hospital.
Your Worcester News has adopted the campaign to build the unit at 220 Newtown Road, near the Charles Hastings Education Centre to replace the existing facilities which are cramped, crowded and too spread out at the hospital.
Jacqui Heal, a mother of three and grandmother of seven, died aged 70 on July 23, 2007, with a brain tumour, shortly before the couple planned to emigrate to New Zealand.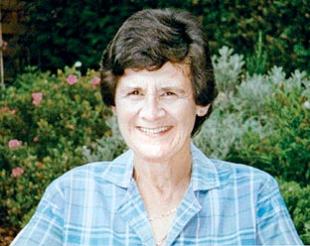 Mr Heal, her husband of almost 45 years, said she would have been "over the moon" to have a room named after her at the unit, which will be a one-stop-shop for breast patients so they can assessed in less time in a far more pleasant environment.
The room named after Mrs Heal, who worked at the old Worcester Royal Infirmary in Castle Street, would be a room where patients with breast cancer could be told any bad news with their privacy and dignity preserved.
Mr Heal, a former teacher at Droitwich High School, said: "The space in which my wife had to work was very limited. There was no sort of pleasant room in which she or a surgeon could sit down with a woman, a husband or a relative to talk to them about a diagnosis.
"One of the things she always felt was that it would be nice to have a space or room, not on some hard chair but somewhere more comfortable so they were not going to be interrupted.
"Where my wife worked, there was no guarantee you wouldn't be interrupted during an emotional and trying time. One of the things she hoped was that there would be this unit. She would have been over the moon about the campaign. She was an extremely caring person who was born to be a nurse."
Mrs Heal formed the Worcester Breast Cancer Support Group to provide help, advice and support to people diagnosed with breast cancer.
The chairman of the group, Cherry Robinson, aged 65, of Osier Close, Worcester, who has battled breast cancer twice and is a model in the charity campaign's fundraising calendar, said: "It would have meant so much to her. She was such a dedicated nurse."
---
20th Anniversary 2010
The group will be celebrating 20 years in 2010 and the President's Lunch will be an even more special occasion than usual. A number of celebrities are being invited so put the date in your diary now. And the date is .... Sunday 11 July 2010.
---
Worcester Breast Unit Campaign
Cherry Robinson, our chairman, has joined exalted company and become a Patron of the campaign. A great honour for Cherry and for the Group. The Group will be offering its full support to the campaign as it gets under way. The campaign web site is being constructed here so keep an eye on it !!
---
Leigh Village Open Gardens
Hundreds of visitors visited Leigh between the hours of 12 noon and 6pm on Sunday 21 June 2009, when they were able to enjoy visiting the gardens opened for their enjoyment. In all 14 gardens were open, ranging from courtyard to extensive, and visitors were able to enjoy the many diverse planting schemes. The ancient village of Leigh is located in the Teme valley and contains many period properties including several converted farm buildings.
Whilst Leigh does not boast a shop or post office it does have a magnificent 14th century Tithe Barn which is the largest in England. A craft fair was held in the Leigh Court Tithe Barn, which sits adjacent to the 12th century St Edburga's Church. Stalls included ceramics, garden sculptures, paintings, walking sticks, jewellery, wood turning, handmade bags, soft furnishings, traditional woodland crafts and garden plants etc. Light refreshments were served in the grounds of Leigh Court.
£2,750 was raised towards the cost of the dedicated breast unit for Worcestershire Royal Hospital.
Ann Sharp, the organiser, would like to thank all the villagers who opened their gardens, Mark and Vicki Advani for the use of the Tithe Barn, and all those who helped during the day to contribute towards such a happy and successful event. Particular thanks to Pat, John and Margaret from the Support Group, who valiantly manned the tea table from 3pm to 6pm.
---
Dragon Boat Racing - Paddlers are Wanted !!
Can you help to fill a boat? Dragon boat racing is fast becoming a popular sport world-wide for breast cancer survivors. There are already over 70 breast cancer survivor boat teams throughout Canada, USA, New Zealand, Australia and Singapore, but only one so far in the UK – in Liverpool. Let's make Worcester the second UK breast cancer survivor dragon boat team!
If you'd like to join in the fun contact Sue Shackleton or just go along and support them. More...
---
Mayor's Diary
From the diary of Councillor Lucy Hodgson, The Mayor of Worcester, for 20 to 26 April 2009.
"On Tuesday morning I went to Worcester Royal Hospital to join Steven Thrush, Consultant Breast Surgeon for a tour of the Breast Care Facilities. We were joined by Michael O'Riordan, Chairman of Worcestershire Acute Hospitals NHS Trust, and Fiona Charny of the Worcestershire Breast Unit Campaign. We saw how vital it is to work towards a designated unit with all departments including support services in one place. Also on the tour was Cherry Robinson, Chairman of the Worcester Breast Care Support Group."
---
Read News from Different Years
2007 | 2008 | 2009 | 2010 | 2012 | 2013 | 2014 | 2015 | 2016
---