News 2007
---
Malvern Race For Life 23 May 2007
Members of the group joined more than 1200 runners and walkers at the Three Counties Showground on the evening of Wednesday 23 May to participate in the Cancer Research UK race. The group dedicated their walk to Jacqui Heal, founder of the group, and to other family and friends and sported their 'mascot', a pink umbrella.
The race was over a 3.1 mile course set out within the showground. It could be run or walked according to ability and / or inclination and the group decided to walk and cross the finish line together. The weather was kind as well - a sunny day followed by a well timed drop in the temperature as the sun descended behind the Malvern Hills. Congratulations to everyone who took part. (photos John Lacy).
---
ITV "This Morning" 23 March 2007
Battling cancer is hard enough, without having all your self confidence stripped at your lowest. For most women, losing their crowning glory is unbearable and incredibly difficult to deal with. This morning we're joined by top hairdresser Trevor Sorbie, a man who nowadays dedicates most of his professional time to training hairdressers around the UK in the art of wig cutting, and provides a free service cutting wigs for women who have lost their hair through illness, in the hope he can help them lift their confidence in their lowest and darkest hour.
Trevor joins this morning to cut wigs for two very deserving ladies, desperate to have back their dream hair; 45 year old Jackie Bellchambers, who lost her hair to chemotherapy less than 6 months ago, and 39 year old Wendy Blackwell, a lady who found out just last month she had cancer for the third time. She starts chemotherapy next week...
Getting started
It was Trevor's personal experience 3 years ago helping his sister in law when she lost her hair that inspired him to help others.
He says 'she had a clumpy wig so I cut it. It was her reaction when she saw herself in the mirror that really hit me, she just burst into tears. That's when the penny dropped, that I could really help people that needed me. I knew then it was more than just a hair cut. How can a patient feel positive and strong when their self image has been rocked by baldness? Giving women back their hair, hair that looks natural, attractive and feminine gives them back a little of the confidence to face the world in their darkest hour.'
Trevor's Top Tip
99.9% of women looking for a wig after hair loss want the same style as they had before. He says 'the best advice I can give to people looking for a wig is not to go to department stores as they don't have much of an arrangement. The best thing to do is go to an actual wig shop and take a recent colour photo of your hair before treatment into the wig store - that gives the sales assistant exactly what to look for...'
Trevor's Service
Trevor's made it his goal to ensure his wig cutting service is available to women around the UK. He travels the length and breadth of the country training other hairdressers, and insists the most a woman should be charged by one of the guys he's trained is the cost of a cut and blow dry.
Trevor says 'it's important to me women all over the country can get their wigs cut and feel great about themselves. Cutting a wig is a bit like cutting a hedge or creating a sculpture! It's really important the hairdresser's trained as cutting a wig is nothing like cutting a normal head of hair! In my experience, most wigs have about 40% too much hair in them and I normally concentrate on first removing the bulk and then customising the shape to suit the face. I nearly always use a razor because I feel that sculpting a shape and reducing bulk is much easier using it.'
'My New Hair'
As Trevor doesn't charge for his service, most women donate money to his charity 'My New Hair', and that money is used to buy wigs for those who can't afford them. Trevor has helped hundreds of women.
He says 'their reactions have provided me with a whole new dimension in job satisfaction. My New Hair, has two sides to it, one is to advise women losing their hair about wigs and styling options and the other is to train and advise hairdressers hoping to offer this service or advice in their salon.'
For more information please visit the My New Hair Website
For more information on Trevor Sorbie please visit his website
Copied from ITV's This Morning web site.
---
Annual General Meeting 13 March 2007
The Group elected three new officers to serve for the coming year -
Cherry Robinson, chairman; Pat Sheward, secretary; and Ann Abell, treasurer.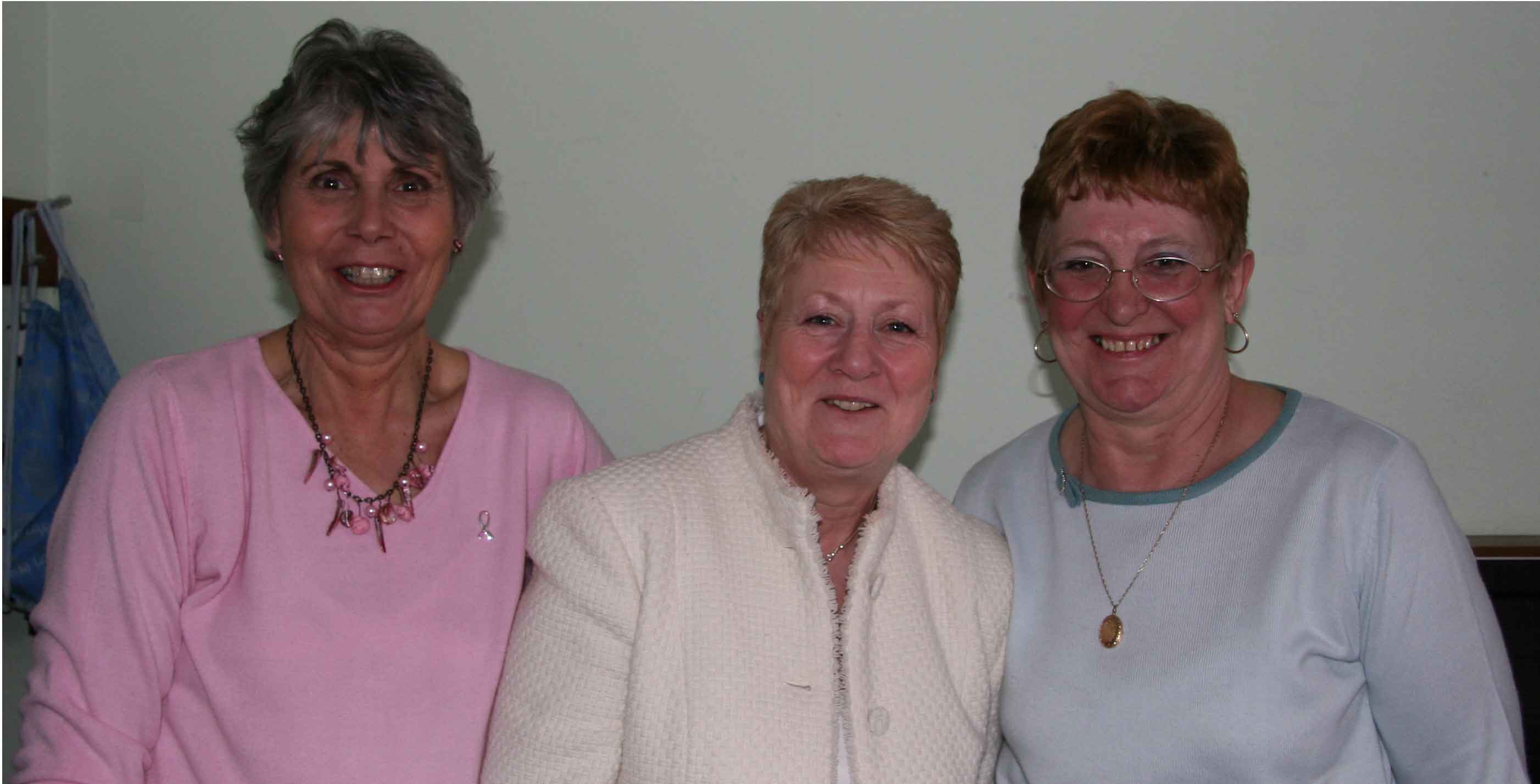 (photo John Lacy)
---
Read News from Different Years
2007 | 2008 | 2009 | 2010 | 2012 | 2013 | 2014 | 2015 | 2016
---