Fund Raising News
We are pleased to say Thank You to all our fund raisers, including the anonymous donor sending money each month through payroll giving.
The Group raises funds to provide additional equipment and facilities at Worcester Royal Hospital to enable the professional medical team to provide a more comprehensive service to breast cancer sufferers coupled with the best care possible.
June 2015 Malvern 'Quilters' Support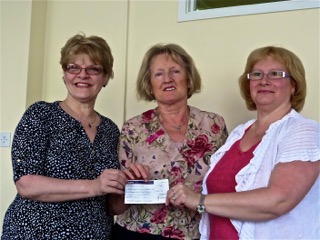 Sharon Coates and Yvonne Jenkins of the 'Malvern Quilters' hand over a cheque for £1,300.00 Mary Duggan, Treasurer, on the 9 June 2015.

The Quilters have raised the money throughout the last year at various functions and they had chosen the Worcester Breast Cancer Support Group as their chosen local charity for the past 12 months. This is a very generous gesture on their behalf and we are very grateful.
November 2015 Worcester Victorian Fayre
---
November 2015 Party Time
---
12 July 2015 Summer Gala
finishing touches to the hall !!!
Once again a wonderful raffle.
Boys & Girls Lucky Dip
Next Generation patiently waiting !!
Setting out the wonderful Buffet!!
Guests enjoying themselves
Hard at work selling raffle tickets
Off to the tombola.

Serious business these raffle tickets ??
A happy time was had by all - thank you to the organisers, the workers and especially the cooks. Another £800 raised - well done!
---
Fund Raising News from Different Years
2007 | 2008 | 2009 | 2010 | 2011 | 2012 | 2013 | 2014 | 2015 | 2016 | 2017
---