Fund Raising News
We are pleased to say Thank You to all our fund raisers, including the anonymous donor sending money each month through payroll giving.
The Group raises funds to provide additional equipment and facilities at Worcester Royal Hospital to enable the professional medical team to provide a more comprehensive service to breast cancer sufferers coupled with the best care possible.
---
November 2010 Worcester Victorian Fayre
We had a stall in the St Andrews Church Hall in what is fast becoming a permanent location and sold a goodly amount of craft goods. Thank you to all who staffed the stall and all those who bought from it.

The "Everybody Knows Somebody" campaign poster was again on prominent display.

Despite the ongoing effects of the recession plus the unusually cold and snow and icy weather - winter had arrived particularly early, a total of £320.65 was raised from sales plus a further £35 from sale of Breast Unit Campaign items. Well done everyone who helped.
---
November 2010 Christmas Party
Whittington Village Hall was again the venue for the Group's Christmas Party where they were entertained by Christell who had been one of the Calendar Girls for 2010.
| | |
| --- | --- |
| | |
| | |
| | |
| Yo Ho Ho & a bottle of rum! | |
---
October 2010 Bridge Afternoon
Vina Kite's Bridge Afternoon in Pershore was very well attended and supported, raising a total of £663. Well done all who supported the event.
---
October 2010 Tesco Trekkso
The Trekkso started promptly at 11.00am on 10 October from the front doors of Tesco's Warndon Store and followed a series of footpaths and tracks to Tesco's St Peters Store.

Collecting any spare cash at Warndon

some dressed for warmth ..
.. and some with fancy hair-do

The walkers are assembled by the front entrance to Tesco, Warndon

An appropriate sign of the day!

Part way along ..

.. with brolleys aloft ..

.. contemplating the next turn ..

.. enjoying the stroll ..

.. pausing a moment ..

.. and more strolling

The group on the final path

Gathering still more spare cash

Everyone assembled again in the doorway of Tesco, St Peters
On arrival at St Peters the walkers were provided with light refreshments in Tesco's staff cafe.
In all the walk raised £820 for the Worcestershire Breast Unit.
The Group would like to thank Debbie Rhead and the staff and managers of the two Tesco Stores for their help and support on the day. Every Little Helps!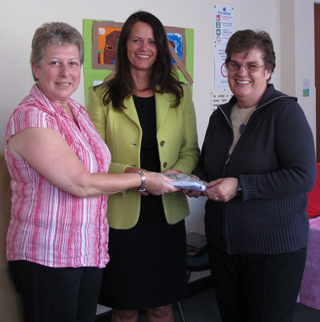 Val Lane-Smith (left) and Irene Lacy (right), organisers of the Trekkso, handing the £820 to Carole Crowe (centre) of the Worcestershire Breast Unit Campaign.
---
Fund Raising News from Different Years
2007 | 2008 | 2009 | 2010 | 2011 | 2012 | 2013 | 2014 | 2015 | 2016 | 2017
---