Fund Raising News
We are pleased to say Thank You to all our fund raisers, including the anonymous donor sending money each month through payroll giving.
The Group raises funds to provide additional equipment and facilities at Worcester Royal Hospital to enable the professional medical team to provide a more comprehensive service to breast cancer sufferers coupled with the best care possible.
So far the Group has enabled the purchase of 2 printers for the ultrasound scanners, laptop computer, digital camera, 10 books about reconstruction (for loan to patients), fat transfer system, tattoo gun plus training for the breast care nurses in its use, upkeep of the dye and needles.
---
November 2009 Worcester Victorian Fayre
We again had a stall in the St Andrews Church Hall and sold a goodly amount of craft goods. Thank you to all who staffed the stall and all those who bought from it.

The "Everybody Knows Somebody" campaign poster was on prominent display.

A total of £418 was raised from sales plus a further £116 from sale of Breast Unit Campaign 2010 Calendars and CDs. Well done everyone who helped.
---
Return to Top of Page | Home Page | Current Fund Raising News
---
November 2009 Christmas Party
The Christmas Party went back to the Whittington Village Hall which is such a splendid venue for us. Poppa J again entertained us and everyone enjoyed themselves.
---
Return to Top of Page | Home Page | Current Fund Raising News
---
October 2009 Charity Gala
Yes, I know its not in date order but you might miss it if I put it half way down the page!
The December meeting welcomed Steve & Michelle Maitland, and also Sophie James, County Fundraiser for Acorns. Steve had organised a Michael Bublé Tribute Show Charity Gala and raised a total of £3,850 which would be split equally between ourselves and the Acorns Children's Hospice.
Steve Maitland presenting the large cheque to the Group
watched by smiling members
Not only did Steve perform at the Gala, he had support from Ria Keen, Ady Marshall, Voices Unlimited and Dancers Lizi Chambers, Jon Salthouse, Laura Edwards & Natalie Grady.
| | |
| --- | --- |
| The large cheque | Cherry inspecting the cheque |
The two large cheques side by side

supported by (left to right)

Pat, Cherry, Steve, Sophie & Ann
Our grateful thanks to Steve, the cast of the show, and all the backroom team who gave their time free to make the Concert such a roaring success.
Steve will be singing at the Summer Lunch - so if you missed the concert you know where to come!
---
Return to Top of Page | Home Page | Current Fund Raising News
---
July 2009 Showery Lunch in Droitwich
More than 50 members, family and friends descended on a Droitwich garden to enjoy a lunch in good company. The rain held off for the most part although there were some showers. Everyone enjoyed themselves and between them raised £1,000 for the funds. Well done all !! (photos John Lacy)
---
Return to Top of Page | Home Page | Current Fund Raising News
---
April 2009 Skittles Demolished in Norton
Members, family and friends had a brilliant fun evening at the Norton Sports & Social Club. Everyone joined in and raised £130. Thank you to all those who attended.
The Club did us proud with an equally successful buffet supper. (photos Irene & John Lacy)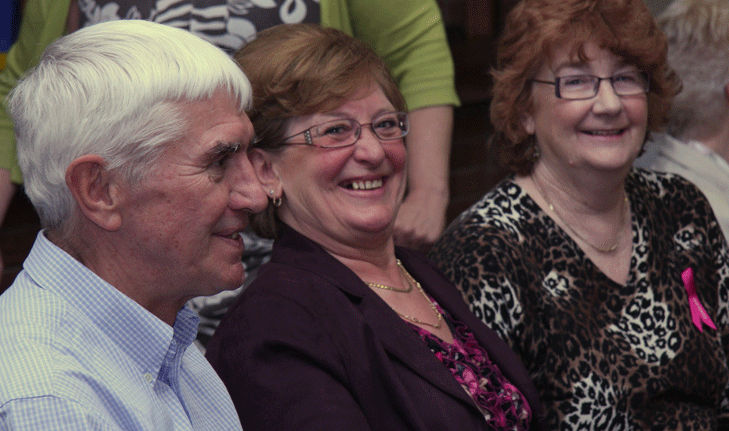 Between turns ...
We also wish to thank our hosts
for the evening -

and the club side they
played that day -
---
Fund Raising News from Different Years
2007 | 2008 | 2009 | 2010 | 2011 | 2012 | 2013 | 2014 | 2015 | 2016 | 2017
---