Fund Raising News 2008
We are pleased to say Thank You to all our fund raisers.
The Group raises funds to provide additional equipment and facilities at Worcester Royal Hospital to enable the professional medical team to provide a more comprehensive service to breast cancer sufferers coupled with the best care possible.
---
November 2008 Red Lion Inn, Droitwich
Mr A F Burford, Landlord of the Red Lion Inn at Droitwich kindly sent a cheque for £250 raised by their staff and customers. Well done!
---
November 2008 Revills Farm Shop
Revills Farm Shop at Defford have a collecting box on their counter. Their staff and customers have donated £29.73 through that box. Well done!
Return to Top of Page | Home Page | Current Fund Raising News
---
November 2008 Worcester Victorian Fair

Ready for the customers to arrive

The Group were again invited to set up a stall in St Andrews Church Hall on the Saturday of Worcester's Victorian Fair.
As ever, the fair was very popular and the St Andrews venue well attended, particularly as the Church members provide excellent, but very economically priced, refreshments.
Another £320 was added to the group funds. (photo John Lacy)
Return to Top of Page | Home Page | Current Fund Raising News
---
November 2008 Christmas Party
And What's His Name?

Building on the success of last year, our Christmas Party was again a great success. Great Company. Great Food. Great Music. Great Dancing.
The Village Hall at Whittington is large enough to allow line dancing and similar activities and Poppa J provided a very popular choice of music before, during and after line dancing.
If you didn't come along, you missed a treat. Make a date for next year!! Another £534 was added to the group funds. And this is a social event not a fund raiser! (photos Irene & John Lacy)
| | |
| --- | --- |
| Cheers !! | Getting into the spirit |
| | |
| --- | --- |
| Our dance leader ... | ... and Poppa J himself |
Return to Top of Page | Home Page | Current Fund Raising News
---
October 2008 A Galloping Success
To say that the Group's Race Night was a galloping success would be to understate matters. It was well attended and raised a whopping £1006.20! Thank you to all those who attended, including those who "attended in absentia".
The Race Night was held at the Blue Bell Inn in Ryall and the Landlord (Ian O'Neill) did us proud with an equally successful buffet supper. (photos John Lacy)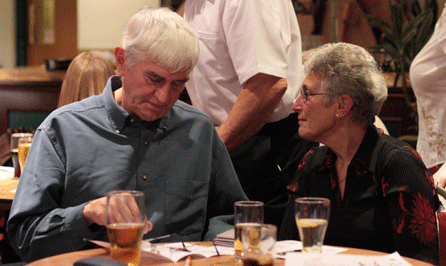 Thinking what to back ...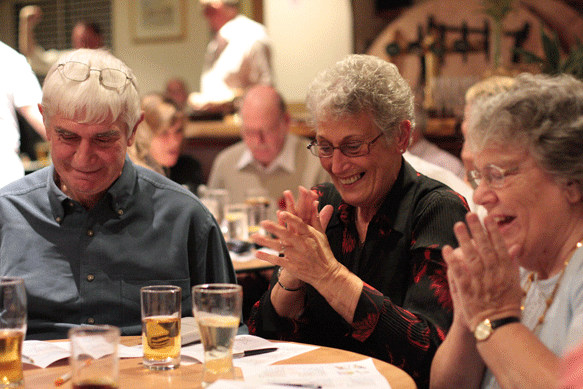 We made a good choice - we won !!
Return to Top of Page | Home Page | Current Fund Raising News
---
September 2008 Birthday Party Success
Ki held their first birthday party on 4 September which included an auction and raffle in aid of the Group.
Two weeks later Stacey and Dave were on hand to present the group with a cheque for £412 that had been raised.
We are overjoyed that Ki have made the Group their nominated charity and are very pleased to be associated with them in this way - thank you Stacey and team. (photo Ann Abell).

Ki Health & Beauty are at 58 Lowesmore Road, Worcester.
Return to Top of Page | Home Page | Current Fund Raising News
---
August 2008 Car Boot Raises £50
During the course of the Group's lunch at the Defford Arms on 12 August, The Landlord, Neil, presented the Group with a cheque for £50 that had been raised at a car boot sale held in the car park a few days before.
Our grateful thanks to Neil Overton, his staff and all who contributed.(photo Irene Lacy).

The Defford Arms is located on the main road through the village of Defford.
Return to Top of Page | Home Page | Current Fund Raising News
---
June 2008 Worcester Concert



It was an excellent concert by the Great Witley Operatic Society, well received both by those who did not know Great Witley and by those who know many local societies, eg. "It was a privilege to hear a strong group of singers and soloists perform clearly without microphones".
The concert raised £1,575 and rising to Worcester Breast Unit and £306 to this group for Jacqui's Room.
Pat and John Bosworth commented "it was a privilege to work with such a lovely bunch of grafters".
Principal Guests pictured (left to right)
Cherry Robinson, Cllr Stephen Hodgson (Mayor's Consort), Cllr Lucy Hodgson (Mayor), Pat & John Bosworth, Jessica & Steven Thrush. (photo Peter Willis).
Thank you to Pat & John Bosworth for organising the event and thank you to the Great Witley Operatic Society for the brilliant performance.
---
Fund Raising News from Different Years
2007 | 2008 | 2009 | 2010 | 2011 | 2012 | 2013 | 2014 | 2015 | 2016 | 2017
---