Fund Raising News 2007
We are pleased to say Thank You to all our fund raisers.
The Group raises funds to provide additional equipment and facilities at Worcester Royal Hospital to enable the professional medical team to provide a more comprehensive service to breast cancer sufferers coupled with the best care possible.
---
December 2007 Worcester Victorian Fair
| | |
| --- | --- |
| First shift at the stall | Late morning shift |
Our crafts stall made a total of £311.40 for group funds. Well done the ladies who staffed the stall and the customers who bought items. And well done as well to the ladies who made the craft items for sale - a really marvellous selection. Also, St Andrews Methodist Church for hosting the stall in their Church Hall. (photos John Lacy)
---
Return to Top of Page | Home Page | Current Fund Raising News
---
November 2007 Christmas Party
Getting ready to swing

Everyone agreed it was a marvellous party.
Our Christmas Party was a great success. Great Company. Great Food. Great Music. Great Dancing.
The Village Hall at Whittington proved to be a brilliant choice of venue with room to swing the proverbial cat - or in this case - the Line Dances.
Poppa J provided a very popular choice of music and line dancing.
Another £335.50 was added to the group funds. And this is a social event not a fund raiser! (photos Irene & John Lacy)
| | |
| --- | --- |
| The Paparazzi Sisters | Three Cooks ready to serve |
---
Return to Top of Page | Home Page | Current Fund Raising News
---
July 2007 Luncheon Party
On a wet St. Swithin's Day, Sunday 15 July, Group members, together with families and friends, enjoyed a great lunch in the garden of our President in Droitwich.

Marquees had been provided and this year sheltered us from the rain instead of the wished for sun.

As ever though, everyone enjoyed themselves and the rain later gave up its attempt to dampen spirits.

The luncheon party raised £1133 for group funds. (photos John Lacy).

Luncheon well under way
Ready to draw the tickets
Announcing the winners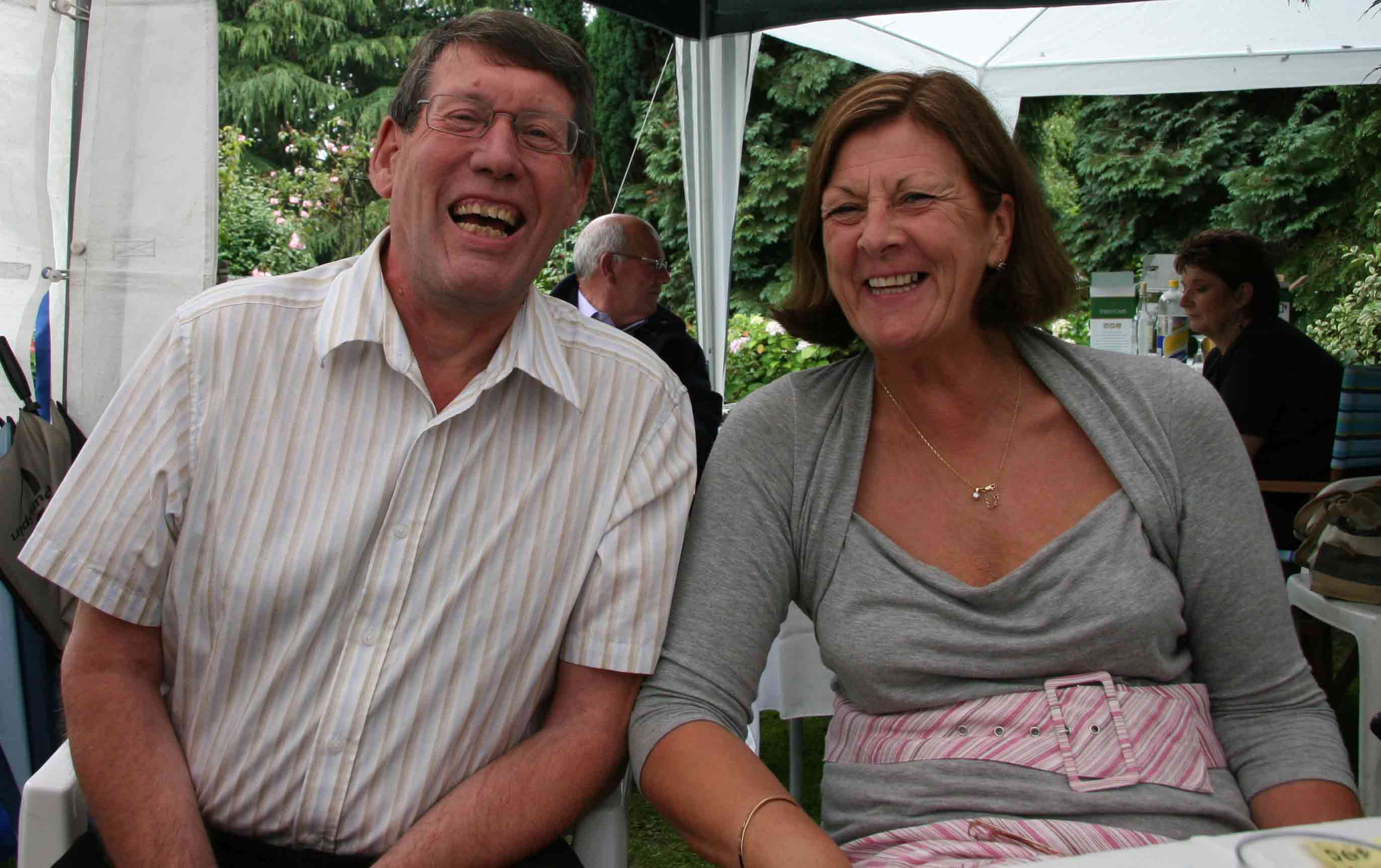 Our hosts, Kit & Linda Noble
---
Return to Top of Page | Home Page | Current Fund Raising News
---
May 2007 Race Night
On Saturday 12 May Group members together with families and friends enjoyed a superb evening at the Bluebell Inn in Ryall. Nine races were hosted by Moore 4 Entertainment with the actual races being picked by audience members so that no-one could predict the winners.

The evening raised £765 for group funds. (photo John Lacy).
---
Return to Top of Page | Home Page | Current Fund Raising News
---
January 2007 Evesham Golf Club
| | |
| --- | --- |
| | Volunteers and representatives of the Support Group, Cherry Robinson, Ann Abell and Pat Sheward, joined the Ladies of Evesham Golf Club for tea in the Clubhouse at Craycombe Links, Fladbury on Tuesday 23rd January 2007 to receive the cheque raised by the Captain's Charity during the course of the 2006/2007 year. Ladies' Captain, Joan Hunt, presented a cheque for £1,923.05p and expressed her gratitude to all the Ladies of the Golf Club for their hard work during the year in raising such an amount for her chosen Charity as did Cherry Robinson of the Group. (photo Peter Sheward). |
---
Return to Top of Page | Home Page | Current Fund Raising News
---
2006 Equipment Purchased
Equipment purchased with the funds during 2006 include:-
Information folders for patients.
Digital camera and laptop computer used by the Breast Surgeons and Breast Care Nurses for teaching purposes, especially with breast reconstruction patients.
Nipple tattooing training for the Breast Care Nurses and provision of nipple tattooing equipment for use on reconstructive patients.
---
Fund Raising News from Different Years
2007 | 2008 | 2009 | 2010 | 2011 | 2012 | 2013 | 2014 | 2015 | 2016 | 2017
---